Kazakhstan Attracts Investors as a Foodstuff and Technological Hub
Today, five largest Central Asian fairs dedicated to food industry and agriculture were launched at the Atakent exhibition centre in Almaty, including FoodExpo Qazaqstan, AgroWorld Kazakhstan, Horex Kazakhstan, ColdChain Kazakhstan, and QazPack. The event attracted representatives of 460 companies from 32 countries. During the 3 days of the fair, they present their best food products and state-of-the-art agro-industrial equipment from all over the world.
Speaking at the opening ceremony, Chinghizkhan Sauranbaev, Deputy Head of the Entrepreneurship and Investments Department of Almaty, noted that over the years the fairs had proved themselves as the largest events in the food industry and agriculture.

"The event owes its prestige to the geographical diversity of its participants and to it being a showcase of a wide range of achievements in the food industry. This event contributes to consolidating the ties between producers, suppliers, and consumers. The development of agriculture and processing of agricultural products is among the city's development priorities. The food industry accounts for about 40% of Almaty's manufacturing sector," pointed out Chinghizkhan Sauranbaev.
The 2019 FoodExpo Qazaqstan fair opens great possibilities for securing attractive food and drink supply offers coming directly from manufacturers from 32 countries. The fair's special-purpose exposition features technological equipment and innovative ingredients for food manufacturing enterprises, with 10 countries presenting their joint national expositions, including Belarus, Germany, India, Indonesia, China, Kyrgyzstan, Russia, the USA, Sri Lanka, and South Korea.
The fair's silver partner aT Korea Agro-Fisheries & Food Trade Corporation will bring along 14 best food manufacturers in South Korea, presenting their products under the Korean Food integrated brand.
The key event of AgroWorld Kazakhstan 2019 is the 4th Central Asia Agrotechnological Summit featuring representatives of Ministries of Agriculture of Kazakhstan, the world's leading scientists, global organizations, financial institutions and start-ups working on the cutting edge of agricultural technologies. The summit discussions are focused on issues such as the support of agricultural producers, tariffs, price control, investment opportunities, subsidizing, searching for new markets, digitalization, possibilities of applying AI in local farms, as well as other issues related to the development of agriculture.
Speaking at the Agrotechnological Summit, Azat Sultanov, Director of the Department of Production and Processing of Plant Products of the Ministry of Agriculture of the Republic of Kazakhstan, characterized the agricultural industry as one of the most dynamically developing in the country.

The industry involves a large number of national and international investors, with the state providing support to domestic producers. This explains why events such as today's fairs and the Agrotechnological Summit are very useful and needed for everyone working in the industry. Geographically, Kazakhstan is located in between two huge markets, Russia and China. Every year, we sign new agreements on veterinary and sanitary regulations for transporting goods between Kazakhstan and China. China market thus opens up for new products. Today, investors are attracted by the opportunity to launch their production in Kazakhstan for further export to China," emphasized Azat Sultanov.
The Agrotechnological Summit is held with the support of Kusto Group in collaboration with partners such as KazBeef, KazSeeds and Valmont.
The stands of AgroWorld Kazakhstan 2019 participants feature genetic materials and equipment for animal husbandry, poultry farming, swine production, feeds and feed components, gardening tools, planting stock, seeds, fertilizers, cutting-edge irrigation systems, fruit and vegetable processing equipment, construction and development of agricultural facilities, refrigeration units for storage and transportation of agricultural products, and turn-key greenhouse solutions.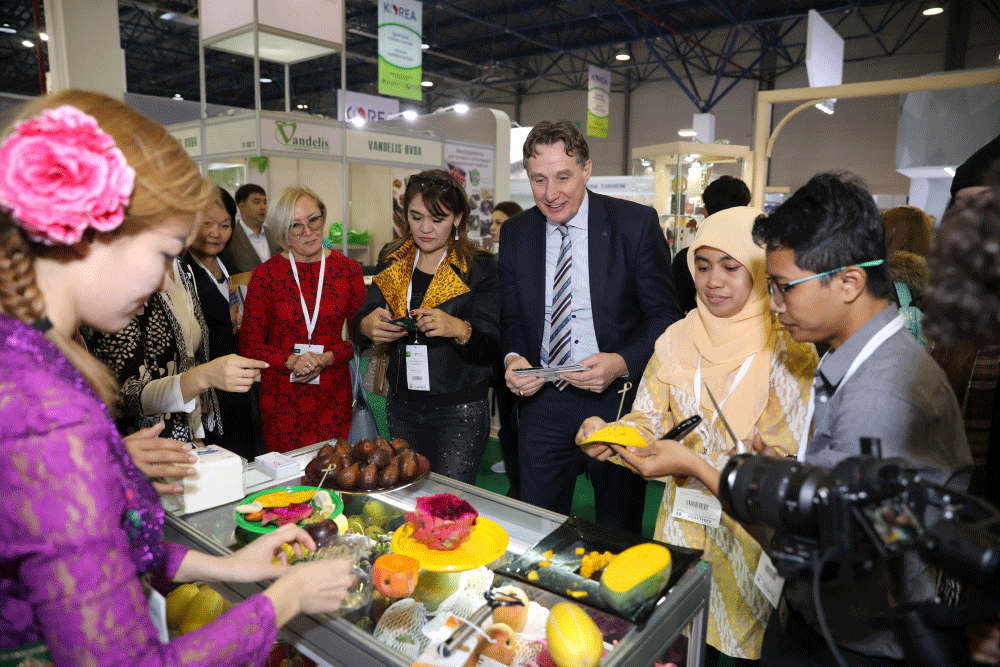 Alma Turlybaeva, Deputy Director of Chamber of Entrepreneurs of Almaty, invited Kazakhstan exhibitors to take active part in the digitalization of the industry.
"We are currently digitalizing the industry and evaluating the effectiveness of government support measures. This year, the Government of Kazakhstan launched a concessional loan program titled the Economics of Simple Things, which provides 100 billion tenge to agro-processing enterprises on favorable terms. At the moment, 31 projects are underway throughout the city of Almaty, 7 of which were approved in the amount of 4.3 billion tenge," said Alma Turlybaeva.
The country's only hospitality fair, Horex Kazakhstan 2019 brings together suppliers of products and equipment for hotels, restaurants, cafes, pubs, supermarkets, and shopping malls. Held as part of the fair, the Horex Kazakhstan forum features famous national and international experts in the restaurant and hotel business and HoReCa business trainers among its speakers. Forum participants discuss eco-trends, smart hotels, ratings, competitive growth, the role of "tasty" photographs in increasing profits and ways to keep up with trends and to make brand new cuisine popular.

This year, the ColdChain Kazakhstan participants include companies from China, Russia, Turkey, Italy, the Netherlands, Uzbekistan, Germany, and, naturally, Kazakhstan. The 2019 ColdChain Kazakhstan business program features a seminar by the Global Cold Chain Alliance, an international association that brings together 1,300 companies from 75 countries. At the seminar, world-class experts shared experience in creating an effective cold chain maintaining product quality throughout the process, as well as explained how to invest smart in temperature regulation business and manage energy resources.
Leading manufacturers and suppliers of packaging, containers and labels for various industries presented new solutions and technologies at QazPack 2019. As part of the fair, Double V also held the All Packaging Solutions conference.
The fair features interactive coffee and bar zones. A series of culinary workshops and a tasting session took place at the Korean producers' exposition. KAZTEN treated visitors to a culinary show by Italian chef Davide Bonacini held at its stand.
The FoodExpo Qazaqstan, AgroWorld Kazakhstan, Horex Kazakhstan, ColdChain Kazakhstan and QazPack fairs will be open on November 7–8.
The Horex Kazakhstan forum will run through November 7. The program also features B2B meetings bringing food and beverage suppliers and producers together with retail representatives and distributors from Kazakhstan and Central Asia. In addition, the second day of the fair will include seminars led by participants and partners, an industry meeting of the Club of Bread Making and Confectionery Technologists, and a prize draw of professional kitchen equipment by KAZTEN held at 5 p.m.
The Hotel UPGRADE event featuring renowned international HoReCa experts will take place on November 8.
The fairs are held by Kazakhstan's Iteca and its international partner ITE Group PLC (UK).