The Packaging Industry Market in the Republic of Kazakhstan
Kazakhstan manufacturers of consumer packaging mainly use imported raw materials:
Basic packaging is purchased by manufacturers from local manufacturers of materials (labels, preforms, lids, cardboard boxes, corrugated packaging, etc.).
Local manufacturers have to import high-tech packaging (complex printing products, cardboard packaging for juices, metal packaging, complex polymeric packaging).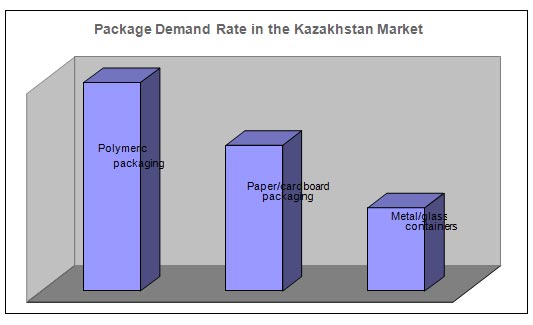 Polymeric packaging
the market share of polymeric packaging is 20-25%
a steady growth of demand
expected increase up to 50%
Paper packaging
paper packaging production meets 80-85% of the total demand
expected market increase – 25%
Glass and metal packaging

major part is imported
Kazakhstan manufacturers are not happy with the varieties of the packaging offered in the market
Problems of the Consumer Packaging Market in Kazakhstan:
lack of competition in the consumer packaging market
low product quality as compared with imported products
underdeveloped technologies and equipment
lack of local raw materials
lack of specific types of packaging
lack of highly skilled specialists
lack of government support
Packaging Industry Support in Kazakhstan
2011-2013 – Atameken Union, KAZNEX INVEST Agency, and Packaging Association of Kazakhstan will jointly draft legal norms and provide conditions to organise the work of the packaging institution, and learn world practices.
2014 – An experimental research institute of packaging will be founded to provide technological support in the packaging market.
According to the World Packaging Organization (WPO), in the last 10 years the world packaging turnover has increased by more than 50%:
packaging equipment sales are assessed at $25 billion
big market share is taken up by package sales